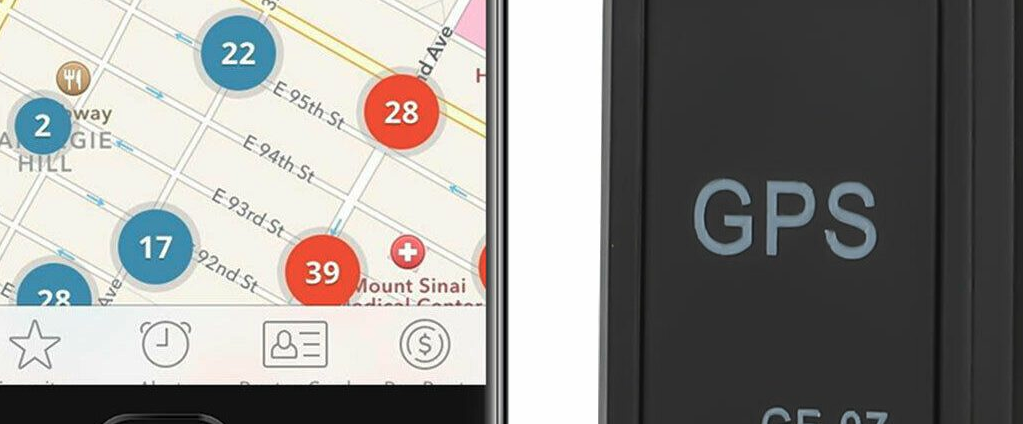 We cover GPS trackers for vehicles, handheld GPS tracking devices for hiking and camping, and GPS watches that cover a range of activities. Read on for what to look for before buying.
Related Topics (ads)
1. BEST VALUE FOR VEHICLES- Optimus 2.0 4g LTE GPS Tracker
This GPS tracker gives you tons of bang for your buck, with a host of attractive features and an equally attractive price point—under $50 at the time of this writing. It's smaller than a deck of cards and comes with a water-resistant magnetic case that's strong enough to place under your car, hidden out of sight.
You can set up custom alerts through the app for things like your car going out of range or a low battery, plus access driving reports and change real-time tracking from 60 seconds to every 30 or 10 seconds. There's also an SOS button and the battery is said to last up to two weeks on a single charge. The monthly service fee is a competitive $19.95 per month, with coverage in the U.S. and Canada.
Related Topics (ads)
2. BEST MIDPRICED UNIT FOR VEHICLES- Bouncie 4g LTE GPS Tracker
While this GPS tracker is pricier than the option above, its monthly service fee is an incredibly reasonable $8 per month. The Bouncie has 15-second real-time data reporting, plus it has attractive features, including impact detection to send alerts to roadside assistance if there's an accident. It also has an SOS button, detects diagnostic trouble codes from your vehicle, and keeps you apprised of speed limits in real time during a trip.
You can set up a circular geofence to get pinged if your car leaves or enters (slightly limiting, as other devices don't constrain the zone to a circle), and the Bouncie is Alexa-compatible, Not bad for a tracker that's about a 2-inch square.
3. BEST PREMIUM FOR VEHICLES- Americaloc GL300 GPS tracker
This GPS tracker comes with exceptional features, sending more alerts than other models in its price category—plus it has a reasonable monthly service fee. Along with real-time tracking in 10-, 20-, 30-, and 60-second increments, geofencing, and an SOS button, the tracker also gives you a heads-up if there's bad weather ahead and lets you know when the car is turned on or off.
Americaloc GL300 has solid battery life and it can be hardwired for cars that don't have an onboard II diagnostic port (OBD II). The monthly service fee is $24.95, but paying for the year up front knocks it down to $19.99 per month. Coverage includes U.S., Canada, and Mexico, and it can be used in other countries with a SIM card.
4. BEST VALUE FOR HIKING- Gramin etrex Touch 35
In addition to its competitive price point—$179 at the time of this writing—one of the best reasons to buy Garmin's eTrex Touch is the display, which has a color-rich 2.6-inch touchscreen that works like a smartphone. You can set up profiles for multiple activities ranging from climbing to hiking and it features an altimeter, barometer, and three-axis electronic compass.
Other highlights include a 4GB memory and GPS plus GLONASS satellites for better tracking in challenging conditions. The eTrex is also durable and water-resistant, with built-in mapping and more than 250,000 preloaded geocaches and coverage in the U.S. and Canada.
5. BEST PREMIUM FOR HIKING- Garmin inReach Explorer+GPS Tracker
This bright, attractive handheld GPS tracker is said to deliver 100 hours of battery life on a single charge—and that's just one of its impressive features. It also has two-way messaging, with access to the global Iridium satellite network to communicate when there's no cell service. Plus, it triggers an interactive SPS to a 24/7 search and rescue center.
The Garmin inReach Explorer+ has a IPX7 water rating (meaning: it's essentially waterproof) and gives you access to downloadable maps along with U.S. NOAA charts. Other highlights include a barometric altimeter, built-in digital compass, and accelerometer.
6. BEST SPLURGE FOR HIKING- Garmin GPSMAP 66sr
This splurgeworthy handheld tracker features a colorful, sunlight-readable, 3-inch bright backlit display, plus expanded GSSN and multiband technology for better coverage in deep valleys and other challenging conditions.
There's an altimeter, barometer, and 3-axis electronic compass, along with a rechargeable lithium-ion battery that's said to last up to 36 hours in standard mode. The Garmin 66sr is considered waterproof, with a IPX7 rating, and connects via Bluetooth and ANT+, which allows all wireless devices to communicate to share vital information like tracking and routes.
7. BEST VALUE GPS WATCH- Garmin Instinct GPS Watch
If you're looking for an affordable, high-quality GPS watch from market-leader Garmin, the Instinct is tough to beat—and it gets rave reviews, with an average 4.7 stars from more than 20,900 customers.
The watch is extra-durable, crafted to meet military standards for shock and water resistance, has expanded GSSN for better coverage in challenging conditions, and has a built-in three-axis compass and barometric altimeter. There's also a backtrack feature that allows you to retrace your steps on the trail and the battery is said to last up to 16 hours in GPS mode.
On a side note, another type of GPS tracking may be used by Employers and fleet managers. GPS fleet tracking offers several advantages, including improved driver safety, and vehicle and fuel management. GPS fleet tracking software includes alerts and reporting features that can aid businesses' decision making. By tracking driver performance, route trends, and fuel consumption, businesses can optimize fleet performance and save money.
(sources: businessnewsdaily.com, toptenreviews.com, popularmechanics.comg.com, bestcolleges.com)